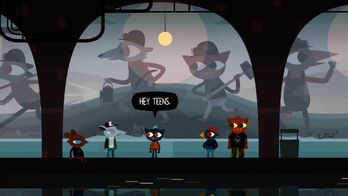 The Tunnel Teens
are a group of high schoolers that hang out in the tunnel by the
Trolleyside News
. They are all
Minor Characters
in accordance to the story. 
Appearance
(From left to right), The first tunnel teen is a brown rabbit with blue eyes who wears a black sweater with a dark green circle in the middle. The second is a gray rat with blue and red eyes who wears a white shirt with a light blue tree in the center with a green plaid unbuttoned overshirt with ripped jeans, brown boots and a trucker hat. The third is a green bird that looks similar to Germ, the attire they wear is a dark blue hoodie with jeans, brown shoes, red eyes, and a red and orange striped hat. The final teen is an orange cat with dark green eyes and ear piercings, they wear a black shirt with a blue druid/death character in the middle along with camo pants and black shoes.
Trivia
Mae mentions she use to hang around here when she was in high school.
All Teens except for the bird are taller than Mae
Ad blocker interference detected!
Wikia is a free-to-use site that makes money from advertising. We have a modified experience for viewers using ad blockers

Wikia is not accessible if you've made further modifications. Remove the custom ad blocker rule(s) and the page will load as expected.